Hits: 3
Zoom Nikkor Z 24-120 mm f/4 S is the latest incarnation of the popular 24-120 mm zoom lens, a focal length range that is exclusive to Nikon. It is also a member of the high quality 'S' series of lenses. It is the 5th member of the Z mount full-frame zoom lenses that start at 24 mm, and despite that, it was a much awaited lens. So, how does it live up to its expectations? Let's find out.
Design & Build Quality
This is a moderately large lens using the same solid 'hybrid' construction as the other S lenses. The bottom part of the lens uses a metal barrel while the rest of the shell is made of polycarbonate. The all metal mount has a rubber gasket. There are three rings – the first for manual focusing, the second for zooming (with focal length lengths marked), and the last one, called the control ring is customisable. However, unlike some of the premium S class lenses, there is no display. There is a single button called 'L-Fn' (Lens Function).
The usual switch for AF/ MF selection is also present. There are seals all over to make the lens dust and drip resistant but Nikon says that the protection does not cover all circumstances. Unlike the 24-70 mm f/4 lens, this is not a collapsing design. Consequently, the lens is a little larger, but then there is no need to rotate the zoom ring to bring it to the shooting position. The lens extends as much as 55 mm (approximately), when zoomed from 24 to 120 mm.
Key Features
The lens has a constant f/4 aperture like its F-mount counterpart. Optically it uses 16 elements in 13 groups. The very advanced design employed uses no less than three ED elements, one aspherical ED element, and three aspherical elements to virtually eliminate all aberrations. Nano Crystal and ARNEO Coatings are used to eliminate reflections along with a fluorine coating on the front element to reduce smudging. The diaphragm is electronically controlled with 9 rounded blades.
Two separate AF drive assembled using very quiet stepper motors deliver the best AF in its class. The zoom ring has positions marked at focal lengths of 24, 35, 50, 70, 85 and 120 mm. Compatibility with 77 mm filters is a great help as these are used on most high end zoom lenses. The Vibration Reduction (VR) feature has been omitted as all the current Z full-frame camera bodies have IBIS (In Body Image Stabilisation).
As mentioned, there is a separate control ring that can be customised and used for setting aperture or exposure compensation. The 'L-Fn' button can be programmed to perform any one of the 21 different functions, examples being, metering mode selection, playback, zoom, bracketing burst, etc.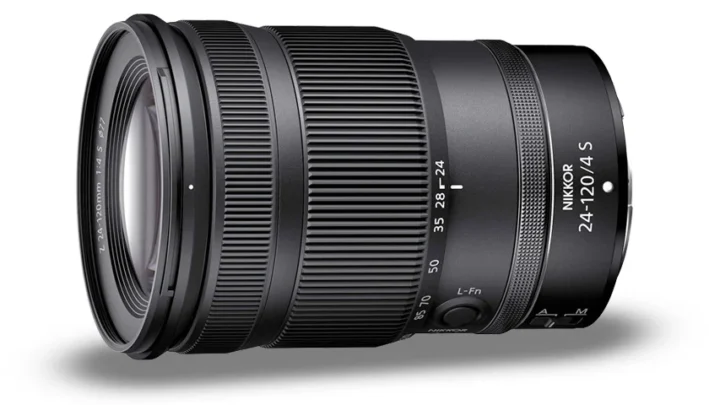 Ergonomics
The lens was tested on Z6/Z9 and Zfc bodies. The lens-body combination balances nicely with Z6/Z9. However, with the lighter Zfc, it was a bit front heavy and there will be no stabilisation as well. The weight is moderate when used with the Z5/6/7 type bodies, and hence this combination will make a nice walk around setup.
Due to its internal focussing system, the length of the lens does not change when you focus, but, the lens extends (quite a bit) when you zoom. The zoom ring is wide and comfortable to grip and so is the focussing ring. Both are smooth to turn with just the right amount of damping. There is the usual instant manual focussing override and a well placed switch for AF/MF selection. As with most modern lenses, there are no DOF or distance scales.
Closest to the lens mount is the easily accessible customisable control ring. Interestingly, it has a different feel to it as the surface uses a different texture to help you easily identify it by touch itself. A raised white dot helps when mounting the lens.
Performance
As you can expect from the pedigree, this is an excellent all-around lens, far better than its F-mount counterpart which was immensely popular with many photographers. The most impressive part of this lens is that it gives peak performance, that is, excellent sharpness fully open almost right up to the edges. This seems to be the new norm for all Z-mount Nikon lenses. Closing down the aperture to f/5.6 slightly improves the already very good edge sharpness.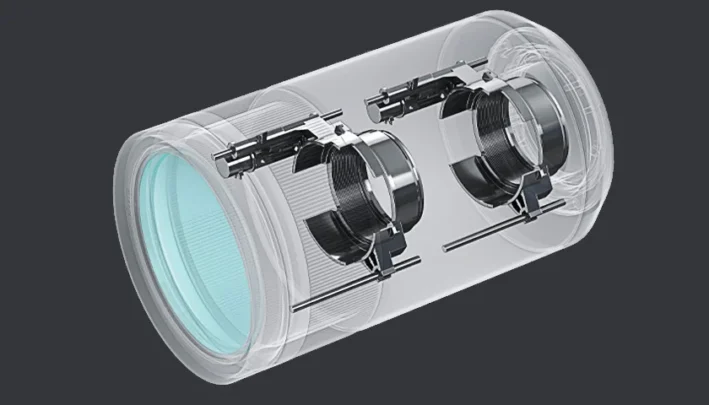 Thereafter, the overall sharpness will gradually decrease with the worst performance at f/22 due to diffraction. More or less the same type of performance is exhibited throughout the focal length range, though there is a slight drop in sharpness towards the longest focal lengths. This is of course very typical of all such lenses.
Distortion, vignetting and aberrations are present, but, due to the profiles provided, these are well corrected by the post-processing software to the extent that these can be neglected even for critical work. The flare was well controlled but it is always advisable to use the provided lens hood.
The maximum magnification is a decent 0.39 x. While this is not in the macro range, it will come in handy in a pinch.
AF was silent, fast, precise and sure footed with no hunting. The AF lag time was only perceptible when there is a large change in subject distance, else it was virtually instantaneous. The subject tracking was excellent too with tracking reticule sticking to the subject very well.
Value for Money
This lens is priced at 1.300,00 USD. This is comparable to similar products from competitors. On the whole, we felt it was very good value for money considering its excellent overall performance.
Verdict
Nikon has made the 24-120 mm zoom lenses very popular and this lens is the 4th iteration of that type. It is a versatile lens and if you want a moderately fast zoom lens that covers all the popular focal lengths, then you need to look no further. It can be a single lens solution for covering many different genres and makes an ideal companion, especially when travelling, to all the full-frame Z bodies.
KEY SPECIFICATIONS
Focal length: 24 to 120 mm, Full-frame (24 x 36 mm)
Aperture range: f/4 to f/22 (constant),rounded diaphragm with 9 blades
Lens construction: 16 elements in 13 groups
Picture angle: 84° to 20° 20' (diagonal)
Highest magnification : 0.39 X
Focussing Range: 35 cm to ∞
Vibration Reduction: No
Filter/attachment size: 77 mm
Lens Hood: Supplied
Diameter x length : 84 x 118 mm
Weight: 630 g
PLUS
• Constant aperture
• Versatile focal length range
• Excellent open aperture sharpness
• Solid build
• Excellent overall performance
MINUS
• No VR
• A bit more expensive compared to the F version