Hits: 1
HASSELBLAD JOINS THE 100 MP CLUB
It's still a very exclusive club, but now Fujifilm and Phase One have been joined by Hasselblad in offering 100 MP capture. Phase One does it via its IQ4 series capture backs (and has a 150 MP model too), while Fujifilm and now Hasselblad pack 100 MP sensors into medium format mirrorless bodies. The Hasselblad X2D 100C has essentially the same smart-looking, hand-crafted aluminium body as the original 50 MP model, but it's finished in a new dark-grey tone that makes it even more elegant in appearance.
There are, however, quite a few changes compared to the two 50 MP X-series bodies, including a new monitor design and top deck info panel with a full colour display, plus the X2D is fractionally bigger and 140 grams heavier; now weighing in at 790 grams.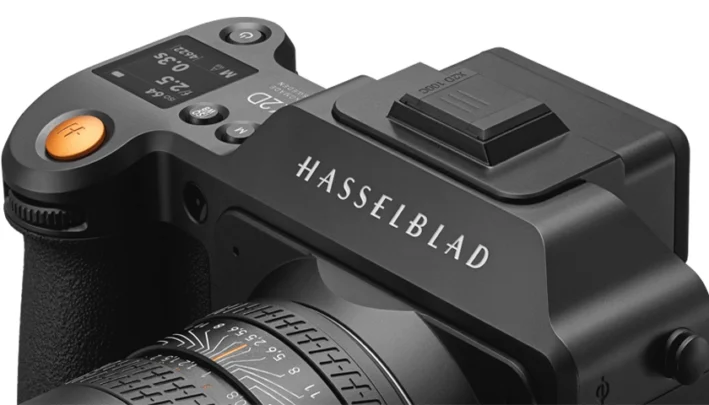 Teknik özellikler
On the inside, the sensor is BSI-type CMOS with an imaging area of 43.8×32.9 millimetres with an effective pixel count of 102 million and a claimed dynamic range of 15 stops. It is, of course, the same Sony-made imager that's used in the Fujifilm GFX 100 models, but with some tweaking by Hasselblad via a new processor. The ISO range is equivalent to 64 to 25,600. Images can be captured as '3FR' RAW files with 16-bit colour (at around 250 MB in size) or full-sized JPEGs at 11,656×8742 pixels.
Continuous shooting is possible at up to 3.3 fps and the X2D 100C has a built-in SSD with a massive 1 TB of storage capacity. It's supplemented by a single memory card slot for CFexpress Type B memory devices.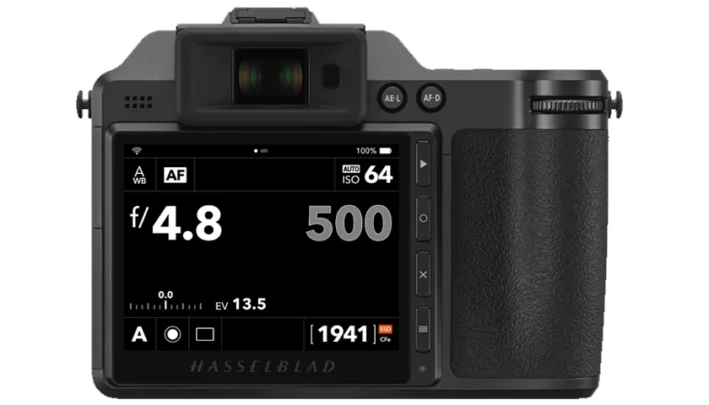 A new feature for the Hasselblad X series line is in-body image stabilisation with fiveaxis movement and up to seven stops of correction for camera shake. Stabilisation is optimised for the focal length of the fitted XCD lens. Also new is phase-difference detection autofocusing made possible by the 100MP sensor and provides 294 measuring zones. Obviously the new hybrid AF is a lot faster than the contrast-only system in the 50 MP bodies, so Hasselblad has introduced a new series of 'V' XCD lenses that use linear stepper motors to deliver a three-fold increase in their focusing speed compared to the existing models.
Design
Initially, three primes are available – a 38 mm f/2.5, a 55 mm f/2.5 and a 90 mm f/2.5 – which also have more compact designs and introduce new external styling. The X2D 100C also gets a new EVF module that uses a 1.27 cm OLED panel with 5.76 million dots resolution, a refresh rate of 60 fps and 1.0x magnification. It also has built-in refractive error correction to ensure corner-to-corner sharpness.
Eyepiece dioptre correction is now performed digitally rather than mechanically. Fixed on the 50 MP cameras, the X2D's LCD screen is adjustable for upward tilts and has a resolution of 2.36 million dots. Touchscreen implementation includes menu navigation, image browsing and review, AF point selection and an AF 'touchpad' for AF point selection when using the EVF.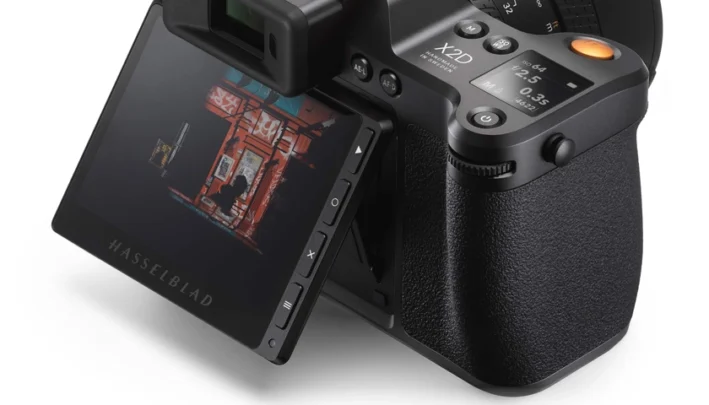 Other notable features of the X2D 100C include in-camera charging via USB-C, an intervalometer, auto exposure bracketing, weather sealing (and insulation to allow shooting in subzero temperatures), Wi-Fi and Bluetooth connectivity, and TTL flash metering which supports selected Nikon SB-series flash units. However, the camera does not shoot video and the facility won't be added down the track.
The X2D 100C is priced at 8,650 US $ for the camera body. For more information visit https://www.hasselblad.com/.
NEW V SERIES LENSES BUILT FOR SPEED AND COMFORT
To keep up with the X2D 100C's new hybrid phase/contrastdetection autofocus system, Hasselblad has introduced a new series of XCD primes designated as 'V' lenses. These are signifi cantly different from the earlier X System lenses in many ways, including being both smaller and lighter. Hasselblad has also taken the opportunity to introduce new styling with distinctive grip patterns on the focusing ring and aperture collar created from the company's 'H' logo.
The all-metal barrels have engraved (rather than screen printed) distance scale markings and the focusing collar has pull/push switching between AF and MF operation (similar to many OM System M.Zuiko Digital lenses). The aperture collar is actually a multi-function ring that can be assigned other duties. Autofocusing is performed via linear stepping motors for faster and quieter operation. They also feature more compact leaf shutter modules.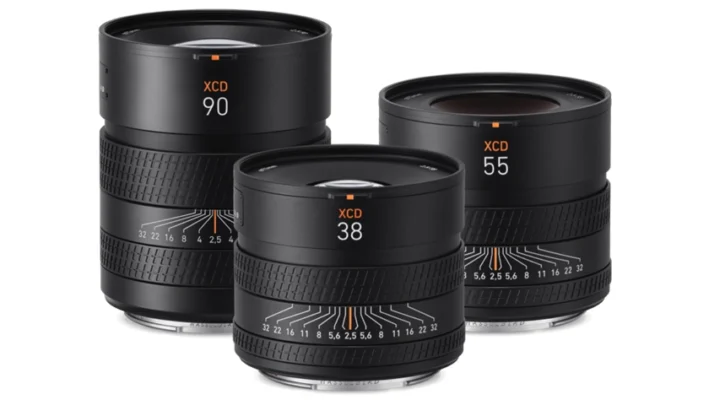 There are initially three Hasselblad XCD 'V' lenses and all are f/2.5 speed primes – a 38 mm wide-angle (equivalent to 30 mm), a 55 mm standard (42 mm) and a 90mm short telephoto (71mm). Their arrival brings the total XCD line up to 13 models.
The 38mm f/2.5 employs a 10-element construction in nine groups which includes three aspherical types and two with extra-low dispersion (ED) characteristics to minimise chromatic aberrations. The minimum focusing distance is 30cm, and it weighs a modest 350 grams.
The 55mm f/2.5 construction comprises nine elements in eight groups and which includes three aspherical types and one with ED glass. Its minimum focusing distance is 45cm. This model weighs in at 372 grams.
There are also nine elements in the 90mm f/2.5's optical construction, but in six groups and with one aspherical type and one ED type. The minimum focusing distance is 67cm, and the 90mm tips the scales at 551 grams.
The Hasselblad XCD 38 mm f/2.5 V and the XCD 55 mm f/2.5 V are priced at 4,030 US $ each, and the XCD 90 mm f/2.5 V at 4,600 US $. For more information visit https://www.hasselblad.com/.