Hits: 4
Whether you're using a Canon DSLR or EOS R system camera, here are the best lenses to help you capture big landscapes in all their glory.
The sheer scale of sweeping landscapes can take on epic proportions. From open fields and rolling hills to huge dramatic skies, there's a lot to fit in with your Canon camera. With a standard zoom lens, you'll often struggle to squeeze as much of the scenery into the frame as you'd like. Mount an ultrawide-angle lens on your camera and it's a truly liberating experience for landscape photography, like taking the blinkers off and pulling much more of the vista into the camera.
When choosing an ultra-wide lens, it's crucial to pick the right tool for the job. Whereas full-frame compatible telephoto lenses can work equally well on APS-C format cameras, an ultra-wide lens designed for full-frame cameras generally lacks viewing width on an APS-C format body. Indeed, a single millimetre or two in focal length can make a noticeable difference to the viewing angle. For example, a 10mm focal length gives a viewing angle of about 108 degrees on an APS-C camera (measured on the diagonal of the frame), whereas 11mm shrinks the angle down to 104 degrees.
Many photographers only tend to use ultra-wide zooms at or near their shortest focal length. That's really missing a trick, though. At their longest focal length, most of these lenses venture into standard zoom territory, but with less distortion. There's also an intriguing and highly compact RF prime lens to consider for mirrorless cameras.
CANON EF-S 10-18 mm f/4.5-5.6 IS STM (APS-C) Price: 299,00 $ / €
Compact, lightweight and affordable, this is a smart choice for APS-C format Canon EOS DSLRs.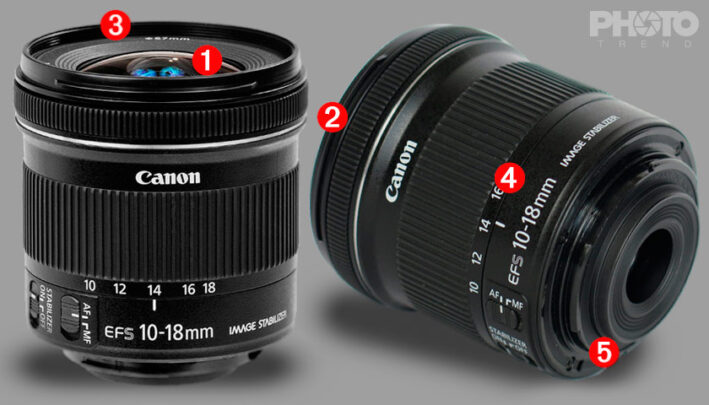 If you're trekking through challenging terrain looking for photo opportunities, the last thing you need is a bag of heavyweight camera kit. This compact ultra-wide zooms weighs just 240g but still packs in some useful features. Unlike Canon's older and heavier EF-S 10-22 mm lens, it adds a 4-stop image stabilizer, avoiding the need to lug a tripod around.
Autofocus is based on a stepping motor that gives quick performance for stills and smooth, near-silent transitions for movies. As usual for this type of system, manual override and fully manual focusing are available via an electronically coupled focus ring. Also typical of STM autofocus lenses, there's no focus distance scale.
Build quality feels good for such a lightweight lens, but part of the weight-saving is due to the mounting plate being made from plastic rather than metal. Even so, it should be durable. Canon's Super Spectra Coating is applied to reduce ghosting and flare. As with most low-budget and mid-range Canon lenses, the lens hood is sold separately but is worth having. For this lens, you need an EW-73C hood, around £25/$25.
PERFORMANCE
Its slick autofocus and effective stabilizer combine with good image quality. Sharpness across most of the frame is impressive even at the widest apertures, and doesn't drop off much towards the edges and corners. It also works with the EOS R7 and R10 via a mount adapter.
CANON EF 16-35 mm f/4L IS USM (FULL FRAME) Price: 1.299,00 $/€
This is an easily manageable full-frame compatible lens with sturdy L-series build quality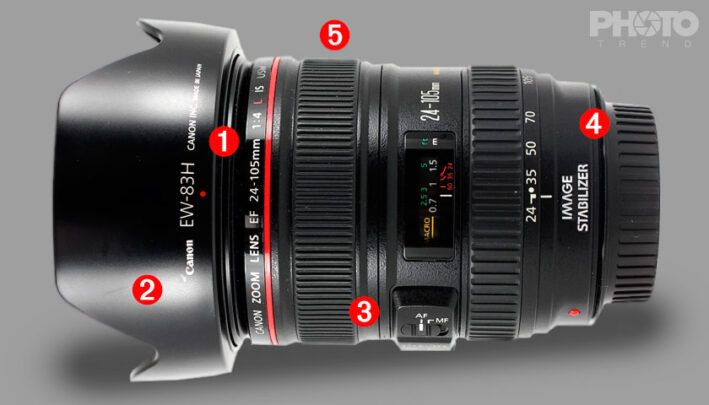 Launched at the same time as the EF-S 10-18 mm lens for APS-C format cameras (also on test), this was Canon's first ultra-wide zoom for full-frame DSLRs to feature image stabilization. Indeed, the new stabilizer was designed for this and gives a 4-stop benefit in beating camera-shake.
Having an f/4 aperture rating, the lens is smaller and lighter than Canon's 16-35 mm f/2.8 zoom, and less expensive. It has premium optics with GMO (Glass Moulded) aspherical elements, including a largediameter one at the front, plus two UD (Ultra-low Dispersion) elements. Super Spectra Coating is applied, as well as fluorine coatings on the front and rear elements.
Build quality is up to the usual L-series standard, aimed at professional and enthusiast photographers, and it comes with weather-seals and a bayonet-fit hood. The filter thread is smaller than in the f/2.8 lens, at 77 mm compared with 82 mm. Autofocus is taken care of by a fast, whisper-quiet ring-type ultrasonic motor, with the usual full-time manual override and a focus distance scale beneath a viewing panel.
PERFORMANCE
Centre-sharpness is excellent even when shooting wide-open at f/4 and remains very good towards the edges of the frame, although it drops off noticeably at the extreme corners. Colour fringing is minimal, while distortion is a little noticeable at the short end of the range.
CANON EF 16-35 mm f/2.8L USM III (FULL-FRAME) Price: 2.199,00 $ / €
The latest edition of Canon's 'trinity' EF-mount ultra-wide zoom represents a major overhaul.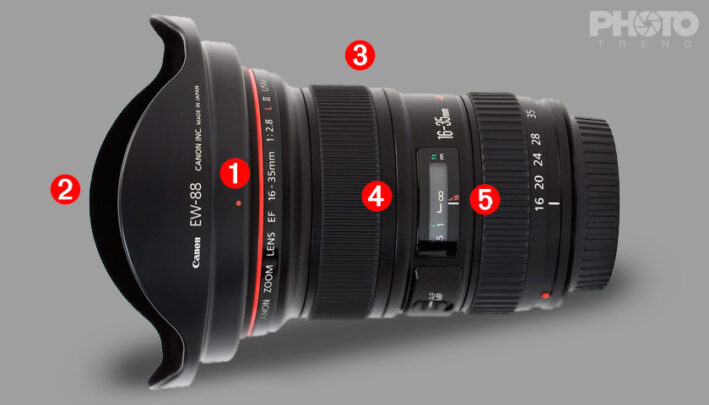 Canon's EF 16-35 mm joins the latest EF 24-70 mm and EF 70-200 mm f/2.8 zooms as the wide-angle lens in the 'trinity' collection. It's not as ultra-wide as the EF 11-24 mm f/4L USM zoom but is an f/stop faster. The maximum viewing angle is slightly less than from the Sigma 14-24 mm, more so than with the Sigma 12-24 mm, equating to 108 degrees compared with 114 or 122.
The Mk III gains a large and complex double-surface GMO aspherical element at the front, adding to two UD elements and a ground aspherical element at the rear. Upgraded, high-tech coatings include both SWC (SubWavelength Coating) and ASC (Air Sphere Coating) for greater resistance to ghosting and flare. There are also moisture- and grease-repellent fluorine coatings on the front and rear elements.
The lens is physically quite long at 128 mm, considering it doesn't have a built-in fixed hood, and the filter attachment thread is large at 82 mm. Build quality is up to Canon's usual L-series standards. Ring-type ultrasonic autofocus is quick and quiet, and the zoom and focus rings are smooth.
PERFORMANCE
Contrast and centre-sharpness are exceptional when shooting wide-open at f/2.8. The Mk III also has much improved cornersharpness compared with its predecessor, but lags behind the Sigma 14-24 mm. Control over colour fringing is very good but not as impressive as the Sigma.
CANON RF 15-35 mm F2.8L IS USM (FULL-FRAME) Price: 2.399,00 $ / €
Canon's 'trinity' wide-angle zoom for EOS R mirrorless cameras goes a little wider than its EF cousin.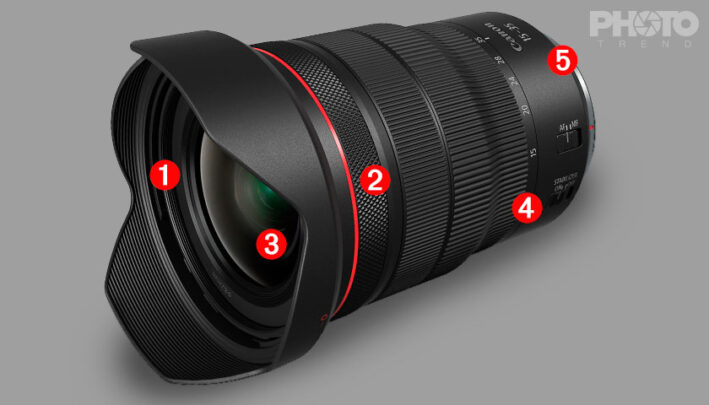 Compared with the DSLR focused Canon EF 16-35 mm f/2.8L USM III, this RF-mount lens is 1 mm shorter at the wide-angle end of its zoom range, thus has a maximum viewing angle of 110 degrees, outgunning the 108 of its EF counterpart. With identical physical diameters and 82 mm filter attachment threads, the RF lens is 1 mm shorter but 50g heavier at 840 g.
The Nano USM autofocus system is lightning-fast for stills and enables smooth transitions for video. Optical image stabilization is worth five stops, boosted further by EOS R system cameras with in-body stabilization. There's a tertiary control ring that you can customize for functions such as aperture control, ISO and exposure compensation, and the optical layout includes two UD elements, three aspherical elements and ASC.
Build quality is excellent, with multiple weather-seals and fluorine coatings on the front and rear elements. However, it's certainly a big, chunky lens and feels a bit of a mismatch for slimline EOS R system bodies.
PERFORMANCE
While the autofocus and image stabilization are fabulous, image quality is a little less than stellar. It's not quite as sharp as the EF lens towards the edges at its shortest focal length, also falling slightly behind the RF 16 mm F2.8. There's slightly more colour fringing towards the corners than with the EF lens at short focal lengths, too.
CANON RF 16 mm F2.8 STM (FULL-FRAME) Price: 299,00 $ / €
This ultra-wide-angle prime is remarkably compact, especially considering its fast f/2.8 aperture.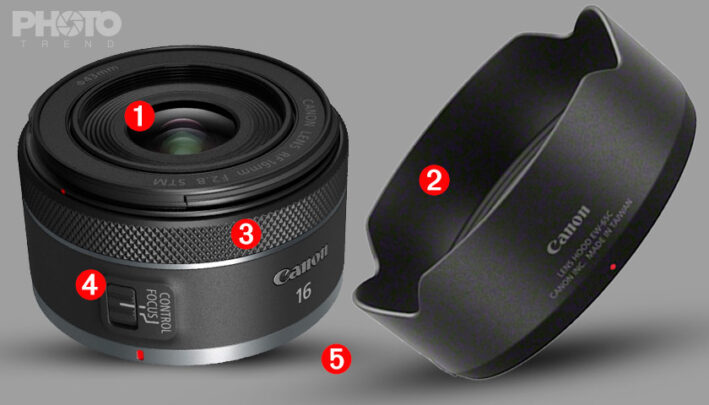 One of the joys of a camera like the EOS RP is that it's wonderfully compact and lightweight for a fullframe body. The same can't be said of many RF-mount lenses, which put image quality before size and weight considerations. The RF 16mm redresses the balance, with its featherweight 69×40 mm, 165 g construction. That's pretty astonishing, given its ultra-wide-angle 16 mm focal length and fast f/2.8 aperture.
Stepping motor-based autofocus is near-silent and combines rapid performance for stills with smooth transitions for movie capture. With a minimum focus distance of just 0.13m, you can get in really close and exaggerate perspective effects, making full use of the short focal length.
Unlike some RF lenses, there's no separate customizable control ring, but the manual focus ring can take on alternative duties in autofocus mode, like stepless (de-clicked) aperture control for shooting landscape movies. Build quality feels very good but, as you'd expect at the price, there are no weather-seals. Typical of non-L-series Canon lenses, the hood is sold separately, but is worth having to reduce ghosting and flare.
PERFORMANCE
Sharpness across most of the frame is very good when shooting wide-open but it pays to stop down to between f/5.6 and f/11 if you want to maximize sharpness out to the edges and corners. Barrel distortion is frankly so appalling that uncorrected images have a more fisheye look to them. In fairness, though, many lenses for mirrorless cameras rely heavily on in-camera corrections.
SIGMA 12-24 mm f/4 DG HSM ART (FULL-FRAME) Price: 1.599,00 $/€
The revision of an old Sigma favourite, this Art lens goes XXL on viewing angles.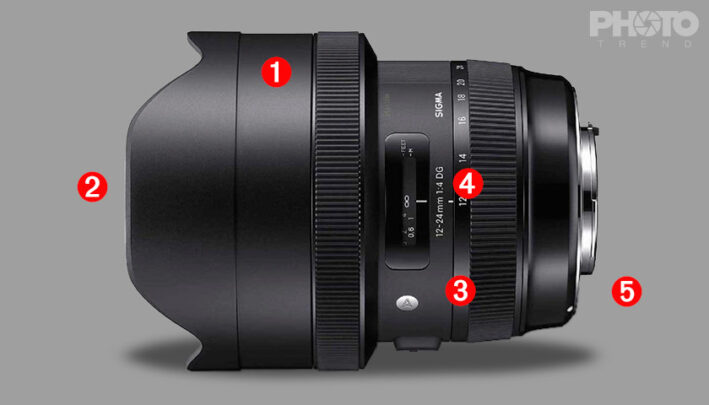 Sigma's 12-24 mm Mk II lens gained an excellent reputation for very good image quality and handling with an incredibly wide maximum viewing angle. The newer Art edition retains the same zoom range but adds a host of improvements.
A standout upgrade is its constant rather than variable aperture rating, generally preferred by enthusiast and pro photographers. The revamped optical path incorporates an extra-large diameter aspherical element and five premium FLD (Fluorite Low Dispersion) elements. Fluorine coatings are applied to the front and rear elements, and the mounting plate is weather-sealed.
The makeover also includes an uprated autofocus system. It's still an ultrasonic ring-type arrangement but with increased torque for greater speed. The new lens is also compatible with Sigma's optional USB Dock for applying customization and firmware updates. The Art lens is bigger and heavier than the older edition but, at 1.150 g, it weighs the same as the Sigma 14-24 mm lens also tested.
PERFORMANCE
There's excellent sharpness in the central region of the frame and it doesn't drop off too noticeably towards the edges and corners. Colour fringing can be a little noticeable at the short end but is very minimal at longer focal lengths. The same goes for distortion. For a seriously ultra-wide zoom, it's the best buy on the market.
SIGMA 14-24 mm f/2.8 DG HSM ART Price: 1.299,00 $/€
Sigma's latest ultra-wide EF-mount zoom aims high for image quality, handling and big performance.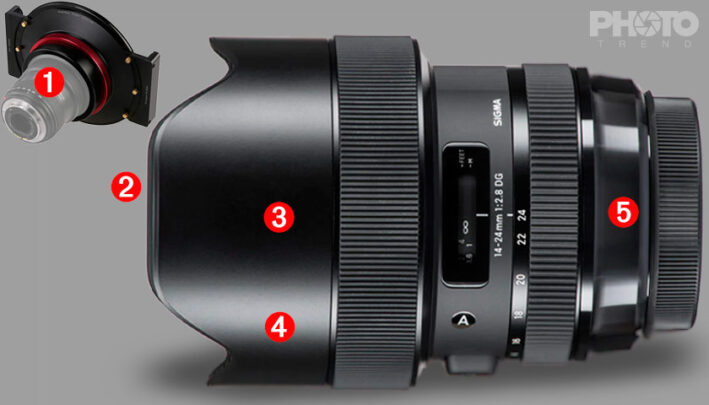 We've long been fans of Sigma's ultra-wide 12-24 mm lens, with its extreme maximum viewing angle. The Mk II edition was very good and the latest Art edition is even better, as also reviewed. This addition to the Art line-up in Canon EF mount is more modest in its coverage but an f/stop faster, fulfilling the "trinity" brief.
Build quality is exemplary, with a full set of weather-seals. Optical prowess benefits from a large-diameter, ultra-highprecision moulded glass aspherical front element, which teams up with three top-grade FLD elements and three SLD (Special Low Dispersion) elements. Autofocus is ring-type ultrasonic, and is speedy, precise and whisper-quiet.
Typical of ultra-wide fullframe compatible lenses with focal lengths of 15mm or less, there's an integral lens hood to protect the protruding front element, though you can have it removed as a service option from Sigma. For firmware upgrades and fine-tuning options, the lens is compatible with Sigma's USB Dock.
PERFORMANCE
Sharpness is excellent across the image frame and the zoom range, even when shooting wide-open at f/2.8. Colour fringing is absolutely negligible and, despite having average scores for barrel distortion based on close-range test charts, it's effectively distortionfree in real-world shooting. Overall, it's a great performer.
TOKINA AT-X 11-20 mm f/2.8 AF PRO DX Price: 549,00 $/€
An appealing APS-C format ultra-wide zoom lens with a fast and constant f/2.8 aperture.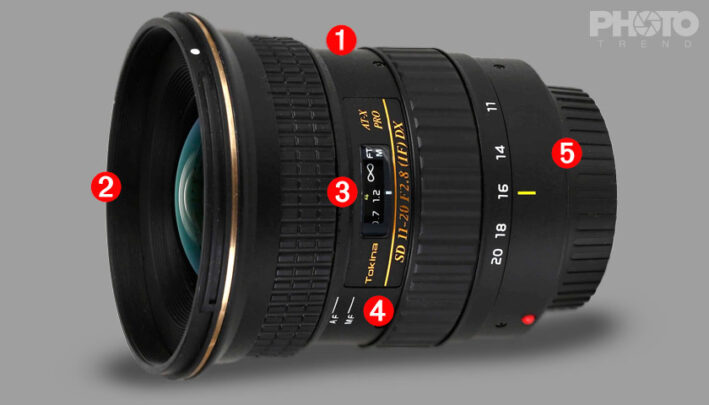 Tokina was one of the first independent makers of ultra-wide zooms for APS-C format cameras, in the shape of its 11-16 mm lens, which has since been updated. This Pro lens is similar in many respects, including its f/2.8 aperture rating, which remains constant throughout the zoom range. The range itself is bigger than its sibling's, equivalent to 17.6-32 mm in full-frame terms.
Optical finery includes three aspherical elements – two are all-glass moulded, with an additional precision-moulded element. There are also three SD (Super-low Dispersion) elements. The autofocus system is quick but noisy, driven by a basic electric motor. Typical of Tokina lenses, it has a onetouch focus clutch, which enables you to swap between auto and manual focus by snapping the focus ring forwards or backwards.
Unlike the Canon APS-C format zoom lens on test, the Tokina has no image stabilizer. You could argue that it doesn't need one, due to the 'faster' aperture rating, but you'll often want to use narrower apertures in landscape photography to increase the depth of field.
PERFORMANCE
The Tokina performs very well in terms of image quality. Levels of sharpness are impressive and distortions are of a fairly low order, although lateral chromatic aberration is worse than average and automatic in-camera correction is unavailable.