Hits: 36
Z9: Nikon's pro full-frame mirrorless combines high resolution with impressive speed. We take a first look
This year, we've seen a series of pro-spec full-frame mirrorless cameras whose capabilities decisively surpass their DSLR predecessors. Sony's breathtaking Alpha 1 kicked things off in January, with its ability to shoot 50MP images at 30 frames per second. Then just a few weeks ago, Canon's EOS R3 appeared offering 24MP at 30fps, but with game-changing eye-controlled autofocus for selecting a subject for tracking. Now it's Nikon's turn to reveal its hand, and in some respects, its new Z9 might be the most impressive. Price: 6.200 € body-only.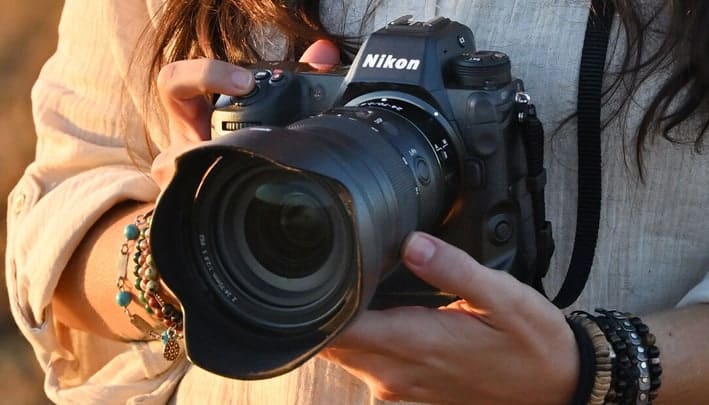 Performance
In terms of headline specifications, the Nikon Z9 uses a 45.7MP full-frame sensor that offers ISO 64-25,600 as standard, and ISO 32-102,400 extended. This means it doesn't match the ultra-high values offered by the 20MP D6, which provides a staggering extended ISO 3,280,000. However, it can shoot in raw format at 20fps with a 1,000-frame buffer, increasing to 30fps if you switch to JPEG-only. Nikon has also included a mode derived from 4K video recording whereby 10MP images can be shot at a remarkable 120fps, complete with continuous autofocus and tracking. Impressively, this is said to work with over 100 Nikon lenses, including F-mount DSLR lenses via the FTZ adapter, as well as Z-mount optics.
Nikon has achieved these speeds by using a stacked CMOS sensor, which employs a memory layer beneath the light-sensitive pixels for ultra-fast readout. This design should practically eliminate distortion from rolling-shutter effects, while also providing a blackout-free viewfinder feed during continuous shooting. The Sony A1 and Canon EOS R3 use similar technology, but the difference is that Nikon has decided to eliminate the physical shutter entirely.
Autofocus
Nikon also claims that the Z9 has its most advanced autofocus system ever, which employs AI-based subject recognition to detect and track focus on people, animals and vehicles, including cars, motorbikes, trains and planes. Alternatively, there are 493 manually selectable autofocus points and a choice of ten different AF-area modes.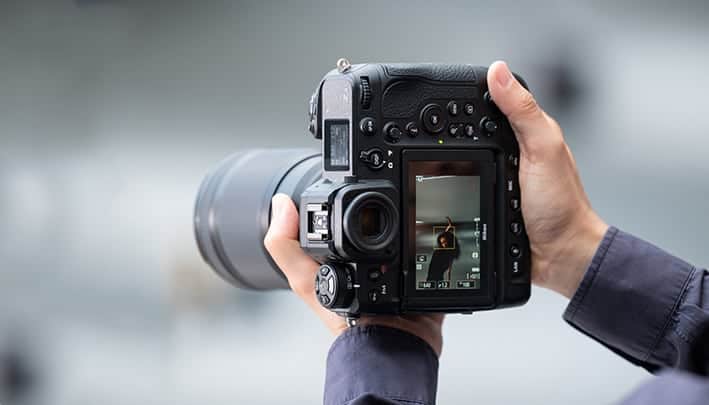 Video
Video specs are likewise very impressive. The Z9 can record in 8K resolution at 30fps and Nikon says it'll keep going for hours without overheating. Alternatively, it can shoot 4K at up to 120fps using the full width of the sensor. There's a choice of 8-bit or 10-bit colour, with efficient H.265 compression to keep file sizes down.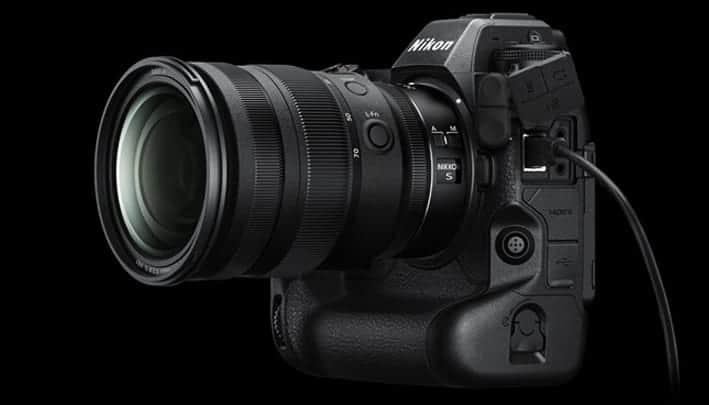 As befits a pro camera, extensive connectivity options are built in. There's an RJ45 ethernet port and built-in high-speed Wi-Fi that supports sending images to a news desk via FTP. It's also possible to connect the Z9 to a smartphone via USB-C for transferring images over mobile data networks.
Other notable features include a shutter shield that protects the sensor when the camera is switched off and new AI-based auto white balance algorithms. A new high efficiency raw file format promises files one-third of the standard size without any loss of detail. Five-axis in-body stabilisation is also on board and rated for up to six stops of shake suppression.
Build and handling
In design terms, from the front the Z9 looks like a slightly shrunken version of the D6, with an integrated vertical grip and a viewfinder housing that's styled to resemble the firm's DSLRs much more than the previous Z models. In contrast to the Canon EOS R3, Nikon says its body is just as robust as the D6, thanks to a fully weather-sealed magnesium alloy shell. It certainly feels pretty bomb-proof in your hand.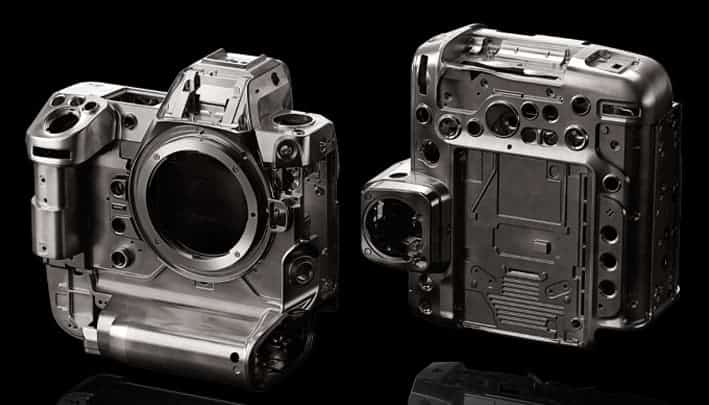 On the back, the layout is very much like the existing Z-series cameras, just with a duplicate set of controls for portrait-format shooting. There's no space for a D6-style column of buttons to the left of the screen, so these have been rearranged to be readily accessed using your right thumb. In particular, well-positioned 'i' buttons allow plenty of settings to be adjusted with the camera up to your eye. The rear buttons can also all be illuminated for shooting in the dark with a quick flick of the power switch.
Like its siblings, the Z9 boasts a large, high-resolution electronic viewfinder, which Nikon claims is the world's brightest. It's backed up by a touchscreen which can now tilt upwards by 90° when shooting in portrait format, as well as tilting up and down when the camera is held in the landscape orientation. This is a similar approach to several Panasonic and Fujifilm cameras, and we think that it's the best screen design for stills shooters. It just can't be set facing forwards.
First impressions
We'll need to spend much longer with the Z9 to get a proper feel for just what it can do, but it certainly gives the impression of being an extremely capable camera that offers a unique combination of high speed, high resolution and superb build quality and handling. Nikon's decision to eliminate the mechanical shutter entirely is an intriguing one, but with this sensor technology it may turn out to be a great way of reducing cost and complexity with no real drawbacks. We're looking forward to putting the camera through its paces to find out.
Two new premium Z-mount lenses
Alongside the Z9, Nikon has revealed two new Z-mount lenses, both in its premium S line. It's also revised the FTZ mount adapter for using F-mount SLR lenses on mirrorless bodies.
Nikkor Z 100-400 mm f / 4.5-5.6 VR S
First up, the Nikkor Z 100-400mm f/4.5-5.6 VR S is a long telephoto zoom for sports, action and wildlife shooting. It employs an extending zoom mechanism with a 90° twist of the zoom ring required between 100mm and 400mm. The optics have been designed to maintain the lens's centre of gravity for improved operability, particularly when using a gimbal.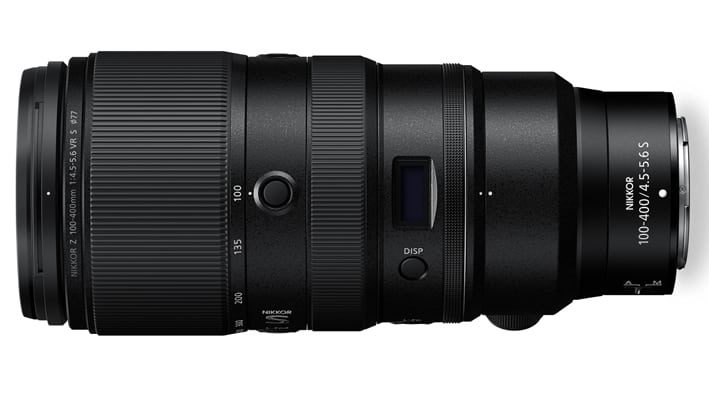 Optical stabilisation is built in, promising 5.5 stops benefit. The minimum focus distance ranges from 75cm to 98cm, making this an interesting option for close-up shooting. A focus limiter switch allows the AF range to be restricted between 3m and infinity to minimise hunting.
Physically the lens shares many of the high-end design features we previously saw on the Nikkor Z 70-200mm f/2.8 S, including a top-plate display for viewing aperture, focus distance and focal length information. Customisable L-Fn1 and L-Fn2 buttons are provided, along with a silent control ring for changing exposure settings. The lens is weather-sealed, boasts a fluorine coating on the front element to repel raindrops, and has a rotating tripod mount with a removable foot. It's due in November for 3.150,00 €.
Nikkor Z 24-120 mm f/4 S
The second optic, the Nikkor Z 24-120mm f/4 S, is a general-purpose standard zoom that should be ideal for everyday use. It also boasts a control dial and an L-Fn button, along with weather-sealed construction. Its minimum focus distance of just 35cm affords a maximum magnification of 0.39x, and Nikon says there's virtually no focus breathing or focus shift on zooming. It'll cost 1.300 €.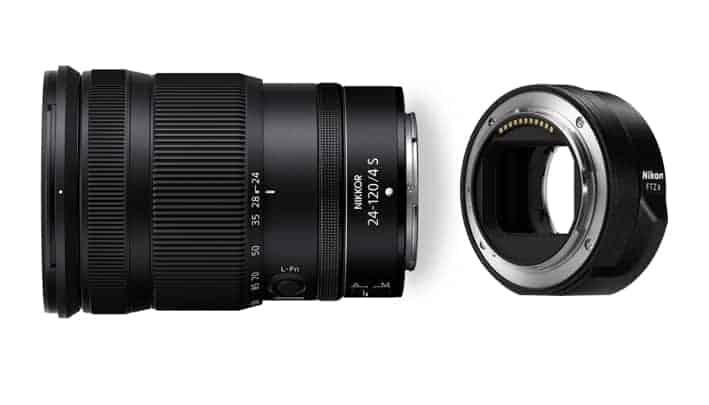 Last but not least, the FTZ II mount adapter offers improved ergonomics, thanks to a sleeker design that eliminates the tripodmount protrusion underneath. It doesn't, however, bring any new functionality. It'll cost slightly less than its predecessor, at 290 €.