Hits: 4
New premium drone packs high-end features into a lightweight frame. DJI has unveiled the DJI Mini 3 Pro, the first premium drone in the company's Mini series, which started in 2019 with the DJI Mavic Mini and has traditionally been an affordable range for beginners.
While previous iterations of DJI's sub-249 g camera drone have all sat some way behind their heavier cousins when it comes to features, the Mini 3 Pro is different, packing high-end features like obstacle avoidance sensors and 4K/60p video recording into a sub-250 g drone. And this means it comes with a much higher price tag than its predecessors.
Lightweight
The Mini 3 Pro represents a significant leap for DJI in what is – thanks to aviation authority restrictions – easily the most important weight category. Current drone rules in the UK, US and Europe are much more relaxed if you fly a drone with a take-off weight under 250 g. Following the launch of the Autel EVO Nano, the first 249 g drone to feature collision sensors, the Mini 3 represents DJI's response.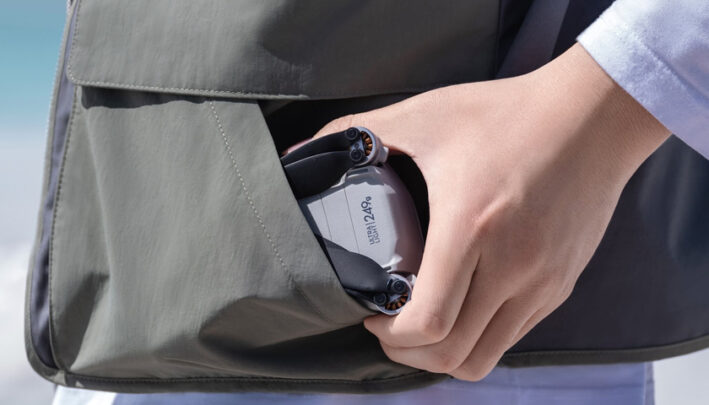 Since the the launch of the first Mavic Mini, DJI has separated the line into a cheaper Mini SE and the more powerful Mini 2, but neither drone offers collision sensors, only landing sensors. The Mini 3 Pro, however, adds forward-, backwardand downward-facing sensors, with the forwards and backward sensors placed in the bumps above the camera.
Excellent flight ability
Tri-directional Obstacle Sensors provide the necessary hardware for Advanced Pilot Assistance Systems 4.0 (APAS). Equipped with this, the drone can navigate around obstacles in flight.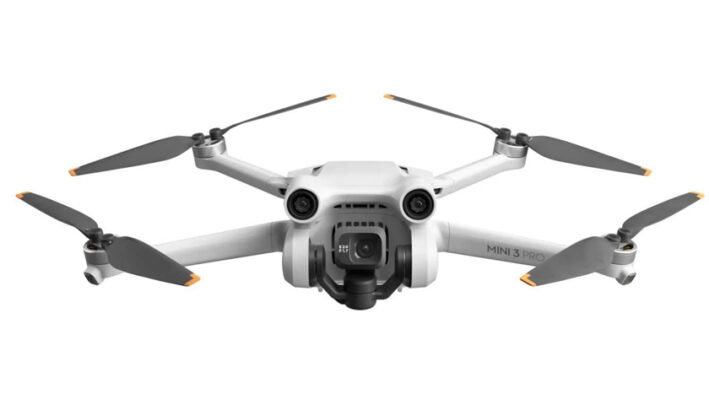 Announcing the Mini 3 Pro, Ferdinand Wolf, Creative Director at DJI said: "Today, we share the integration of excellent flight capability, intelligence, and imaging versatility into our ultralightweight aerial camera. DJI Mini 3 Pro raises the bar on what a portable, powerful camera drone can achieve."
Camera properties
The other significant design change from earlier Minis is the camera gimbal, which can be physically rotated to capture an image in vertical format. DJI see this as an essential feature for social media enthusiasts, and one which will, over time, be better supported by automated functions like panorama modes.
The Mini 3 Pro's camera has a 1/1.3-inch CMOS sensor and dual-native ISO. The f/1.7 aperture has a Smart Photo and 48 MP Photo mode (8064 x 6048 pixels). When capturing video, 2x digital zoom is avilable in 4K or 4x in 1080 p.
Remote control
The Mini 3 Pro uses the DJI O3 video transmission system – 1080 p 30fps – and launches with a new remote, the DJI RC. With a 5,5-inch touchscreen and the DJI Fly app already integrated, this is effectively a lighter, cheaper remote which doesn't require connecting to a phone.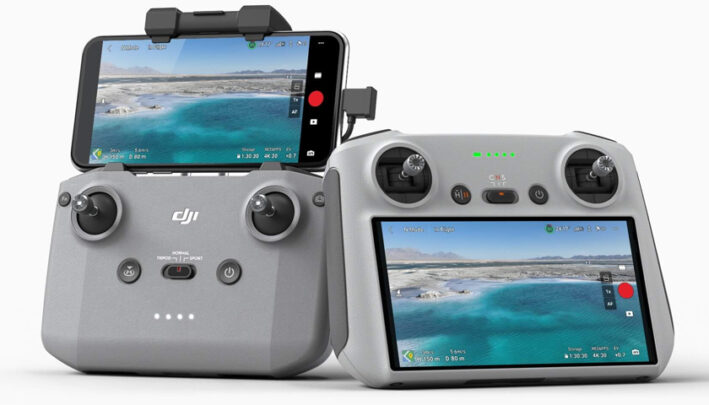 DJI will be offering two choices of battery with the Mini 3 Pro; a 2453 mAh 'Intelligent Flight Battery' and a 3850 mAh 'Intelligent Flight Battery Plus', offering 34 or 47 minutes of forward flight respectively. The larger-capacity battery will only be available in some markets, and will push the drone's take-off weight over 249 g. The batteries take 64 and 101 minutes respectively to charge with the 30 W USB-C charger.
In terms of software, DJI is including its FocusTrack tools: Spotlight 2, Point of Interest 3 and ActiveTrack (previously only seen on the Air and above). The drone will also offer Quickshots, like Dronie, Helix and Rocket, which are also found on the Mini 2.
Price
The DJI Mini 3 Pro with a single battery will retail for 829,00 € / $ 759,00 with the now established DJI RC-N1 controller, although it'll also be available without controller for 739,00 € / $ 669,00 for DJI users who already have a remote, and 999,00 € / $ 909,00 with the new DJI RC.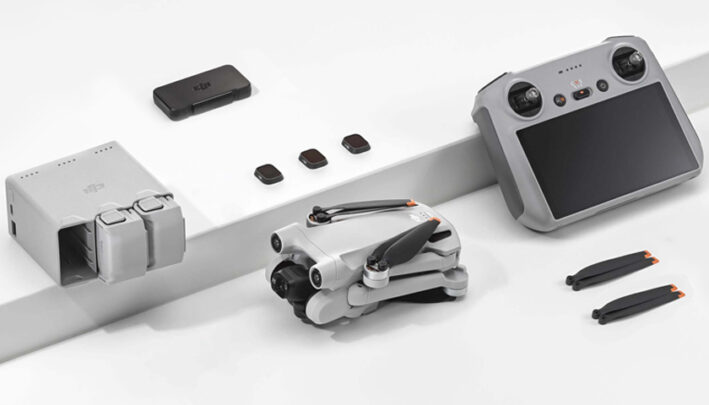 Because the drone can be bought in three different configurations, a Fly More Kit comprising two intelligent batteries, a charging hub, a bag and some spare propellors is available as an optional extra for 185,00 € / $ 189,00. In the US you can also buy a Fly More Kit Plus for 230,00 € / $ 249,00, which includes the Intelligent Flight Battery Plus for a longer, 47-minute flight time.