Hits: 10
Lenses are the most important piece of kit to invest in – good glass makes all the difference to your images. When it comes to wedding photography, having the right lenses can make all the difference to your shots. In this article, we'll look at some of the best lenses to use for wedding photography and why these are the ones that should be in your kit.
Other gear
Professional wedding photographers always carry two camera bodies. Weddings are not staged events and things happen spontaneously. Having two cameras with two different focal lengths to hand means a photographer can capture things quickly, without missing any special moments. Pros also carry flashguns for each camera and sometimes a tripod for the large group shots.
Prime vs. Zoom
Prime lenses offer the largest maximum apertures and, as the glass only has to cover one focal length, you'll often get higher quality lenses for a cheaper price than a zoom equivalent. However, there's no doubt that a zoom lens is extremely practical for shooting weddings as it allows you to cover a range of focal lengths quickly from one spot.
Some photographers use only primes, some use only zooms, some use a combination of both. What I would say to you is that if you're just starting out shooting weddings, the best lenses will be the ones you already own! Consider renting other lenses to try out before investing lots of money. You'll soon find what works best for you.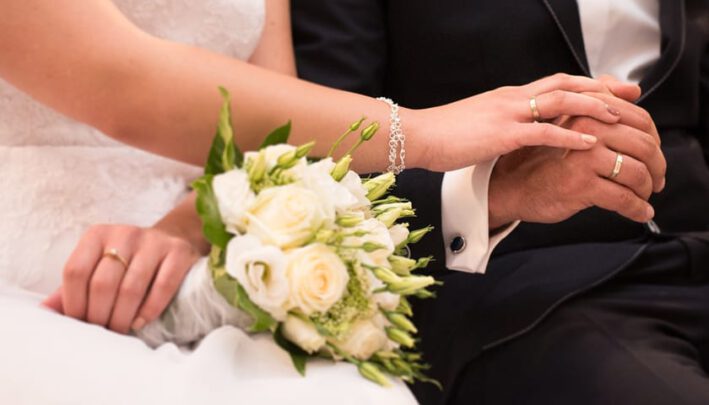 Wedding photography lenses
I'm going to discuss the lenses that I think are most suitable for wedding photography. However, you wouldn't want to own all of these! These choices cover the ideal prime and zoom lenses from which most wedding photographers pick their favorites. Do note that I'm talking about these lenses as if they were being used on a full frame camera, so adjust to equivalent focal length accordingly as needed for your camera's sensor size.
24-70 mm f/2.8
If you only had one camera and one lens, this would be the best choice. 24 mm is wide enough to capture group shots, whilst the 70 mm telephoto end allows you to zoom in for intimate and candid shots. The large maximum aperture also allows you to use a smaller depth of field – essential at weddings when you're trying to isolate details from a scene. The 24-70 is probably the most popular wedding and event photography lens. The f/2.8 version isn't cheap though and it's worth considering third party options if you're on a budget. Sigma's Art line 24-70 mm is a good one to consider if there's the right mount for your camera.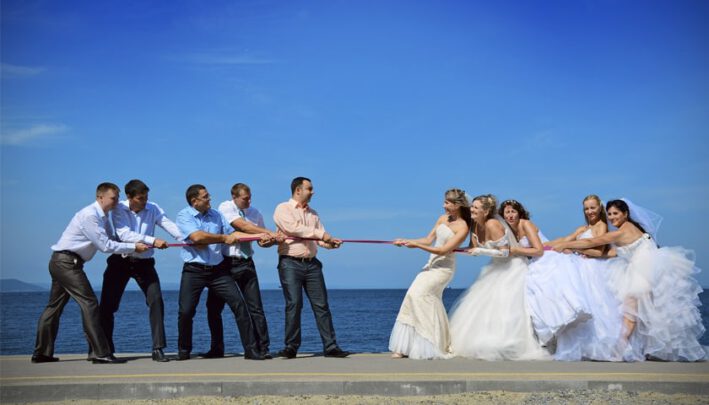 70-200 mm f/2.8
The 70-200 mm is the natural accompaniment to the 24-70 mm if you're sticking with zoom lenses. The longer telephoto range of this lens allows you to use a slightly wider aperture to keep both the bride and groom sharp, whilst still softening the background and helping them to 'pop'. The 70-200 is great for capturing details and close-ups and it's a great option for portraits. The big downside is that it's a heavy piece of kit and fairly pricey.
It's also a lens that you really need image stabilisation on, as weddings are often shot in venues with fairly low light and limited exposure choices. Again, third party options such as those from Tamron and Sigma will come in cheaper.
35 mm f/1.4, f/1.8 or f/2
If you're going to shoot with prime lenses, the 35 mm is a great wideangle lens to have in your kit bag. The lens is wide enough to capture groups, the ceremony and even the dance floor, whilst still being light and easy to carry around. The lens is also not wide enough to cause distortion or vignetting and the larger maximum aperture allows you to get brighter shots even in dimmer locations. The f/1.4 options will give you the highest quality images but if you're on a budget an f/1.8 or f/2 version will still give you great results.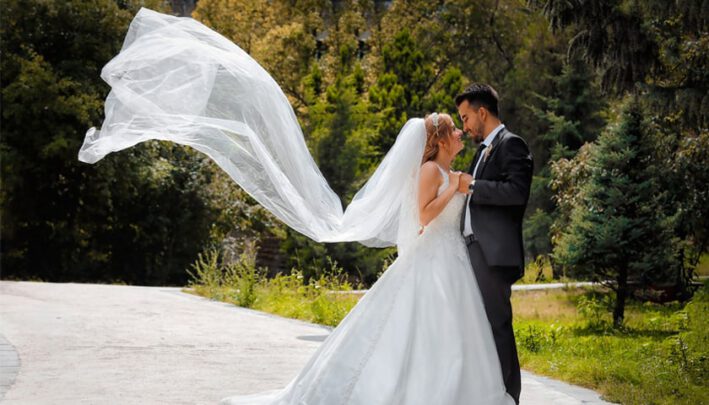 50 mm f/1.2, f/1.4 or f/1.8
Countless photographers (including myself) swear by the humble 50 mm lens and it's not hard to see why. Even the cheapest f/1.8 versions offer creamy bokeh and they offer a bright aperture and great portrait options. Now some manufacturers do make a f/1.2 option but I've personally never seen the point of paying that much extra for one aperture stop when the f/1.4 option is so good. The background separation isn't quite as good as a telephoto lens but with 50 mm lenses being so small and light, it's daft not to have one in your kit bag.
85 mm f/1.8
The 85 mm is the ultimate portrait lens, with a focal length that's more flattering than a wider angle. It allows you to take photographs in venues with limited space and gives you images with a soft background and pin-sharp subjects. Best of all, the 85 mm is usually fairly reasonably priced, meaning it won't break the bank!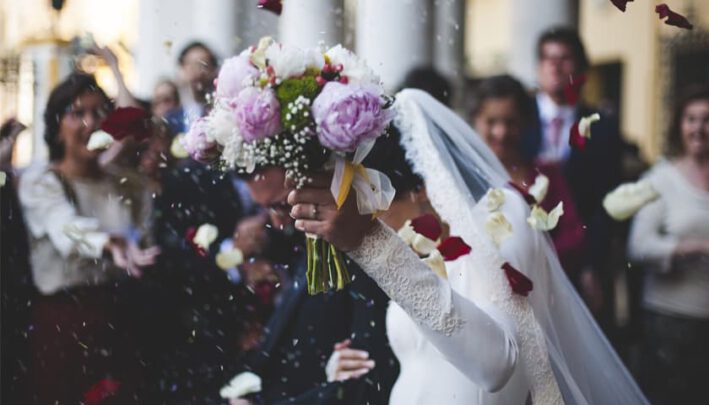 135 mm f/2
If you're using one prime portrait lens then the 85 mm would always be my first choice. But if, over time, you wanted to add a second telephoto prime to your kit, the 135 mm would be the obvious choice. The focal length allows you to take candid shots more easily, without your subject noticing, whilst the f/2 aperture still allows for a small depth of field with portraits. It is, however, not a cheap lens compared to the 85 mm!
Conclusion
Whichever combination of lenses you choose to use, it's undeniable that a wedding photographer needs a range of focal lengths to cover a wedding successfully. And everyone has a different way and style of shooting, which will influence their lens choice. Hopefully though this article will go some way to narrowing the field and giving you some choices to think about.
---